Amazon #1, Google Drops To #2 In Product Searches
Amazon has become the top place consumers go on the Internet to search for products as Google continues to lose market share for e-commerce search.
Google – you blew it!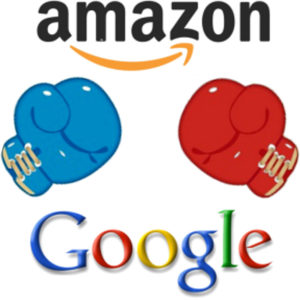 When you all but eliminated "products" from your organic search results to create demand for your paid placement "Google Shopping" monetization scheme you ceased to be a Search Engine. Instead, you became a Paid Placement Advertising Service. Your index of products available for purchase was reduced to those stores willing to pay you to inlcude their products in your Google Shopping product index.
Google Shopping is powered by two platforms: AdWords and Google Merchant Center. Google Merchant Center is where stores submit their product data feeds to. AdWords is where stores create Google Shopping Ads to promote the products in the Google Shopping product index. Only products submitted to Google Merchant Center and paid to be promoted via AdWords appear in the Google Shopping product index.
Google's "pay to play" shopping scheme resulted in a small subset of products represented in their search results, and allowed Amazon to take a leadership position in Product Search. It also resulted in a $2.7BN fine for EU antitrust violations over Google shopping searches.
Fifty-five percent of people in the U.S. now start their online shopping trips on Amazon.com(source: BloomReach 2016 survey). That statistic marks a 25 percent increase from the same survey last year, when 44 percent of online shoppers said they turned to Amazon first. Over the same time, the percentage of shoppers who start product searches on search engines like Google dropped from 34 percent to 28 percent.
Amazon is exploiting Google's "weakness" in online shopping, as shoppers are increasingly starting their product searches on Amazon instead of Google(source: Forrester Research Report 2017). According to the report, consumers are 2.5 times more likely to find out about the brand of a recent purchase from Amazon versus any other search. "This erosion is likely to continue" for Google, the report said.
According to a survey by the financial services firm Raymond James, more than half of people start their search for online shopping on Amazon now, while only 26% use search engines like Google as the starting point.
Perhaps what's more concerning is that the search engine's share has been cut in half compared to 2014, while Amazon's share has significantly increased over the past two years.
And it doesn't look like the trend will change any time soon. The prime 18 to 29 year age group prefers Amazon by a wide margin when it comes to online product searches, according to the survey.