The drop-off in Facebook has been higher among younger users, but the decline is seen in every age and gender demographic as well. It's not as if only young people, or older Americans, or women are using Facebook less. Every studied group is using Facebook less.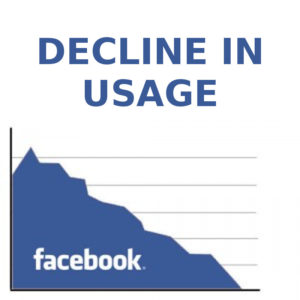 If you've found yourself spending less time on Facebook over the last year, you're not alone. As the beleaguered company has battled scandal after scandal and tried to emphasize "meaningful" interactions over fake news and clickbait, users are spending less time on the service. The declining usage of Facebook explains the company's recent decision to stop disclosing metrics for its main app and its shift toward private interactions.
It was assumed that Instagram was the bright spot for growth at Facebook, but a recent Bank of America report claims that mobile downloads of both Facebook and Instagram apps are declining.
The report, which cites data from research firm Sensor Tower, claims that combined downloads of Facebook and Instagram fell 13% year-over-year in the third quarter of 2019 so far. Facebook's downloads declined 15%, while Instagram's downloads dropped 9%.
Americans record lowest 'satisfaction' with Facebook since 2015, according to ASCI.
A steady stream of surveys and anecdotal evidence indicates Americans are less trusting and engaged with Facebook since the Cambridge Analytica data-privacy scandal broke in 2018. A report from ACSI explains Facebook trails all other social media sites in user satisfaction "by a wide gap." This is not limited to privacy issues, according to the survey, it extends to site functionality, ads and content.
Users also find advertising on Facebook to be more intrusive than other sites. But the bad news doesn't stop there. In two new ACSI measures for social media websites, Facebook falls dead last. Users feel that the ease of uploading photos and videos is subpar compared with other sites in the category. Moreover, users are frustrated with Facebook's news feed as the site's content rates worst in class for relevancy.
Engagement with Facebook is set to decline or remain flat for the foreseeable future, according to a new report from eMarketer.
Reasons for the decline in Facebook are:
1. Increased Distrust of Facebook
2019 has not been a great year for Facebook as a company. The media has consistently covered Facebook's role in the propogation of "fake news." When you combine their fake news problem with the company's other problems with privacy and accountability you end up with an environment where the users of the platform may not fully trust the motives and judgment of the company that operate the platform.
Given that Facebook has access to many of its users' most important personal data points, photos, and feelings a drop in trust is likely responsible for a drop in usage.
2. Increased Discord on Facebook
If you're a Facebook user you have probably seen "friends" say they are logging off of Facebook for good because of the rampant negativity present on the platform.
In the shadow of the presidential election, there has been a continued polarization of thought in America, and an acceptance that the new normal is a climate of "us" vs. "them." This is tiring. Each time you express an opinion on Facebook you must defend that opinion from segments of your "friends" who are now "the opposition." This makes Facebook very unenjoyable to use.
3. Increased Disinterest in Facebook
I don't know that it was ever "cool" to say you use Facebook… but now it feels increasingly not cool to admit you use it. Social Media platforms are a bit like fashion. One day you are hot, the next day you are not.
We've seen countless websites rise and fall in popularity, seemingly overnight, and a handful of sites that have stuck around for 20 years or even longer. I have grown increasingly used to the idea that most social platforms will eventually burn out or fade away. MySpace is a perfect example of this on the social media front. MySpace is still technically alive but it is nowhere close to the level of popularity it used to have.
Some of the decline in Facebook is probably due to a shift of users to other parts of the Facebook ecosystem. While Facebook's usage declines, it will be important to see what what happens with Instagram, WhatsApp and Facebook Messenger.
After all, one of Facebook's most attractive elements is that you can do a LOT of different things on the platform. But that's also one of its great weaknesses. Is Facebook the BEST place for video? Probably not. Is it the BEST place for photos? Probably not. Is it the BEST place for messaging? Maybe.
When additional surveys and data are available I predict they will reveal an even greater drop in daily usage Facebook. While there are some people who have signed off of the platform entirely, I believe the bigger change is people using Facebook a couple times a week instead of every day.
Stay tuned for more updates on this topic.