Real Estate Brokerages have been ripe for disruption for a long time. Until recently, traditional real estate brokerages have been spared some of the enormous disruptions that have redefined other industries, but they are under increasing margin pressure, losing top producing agents, and losing market share.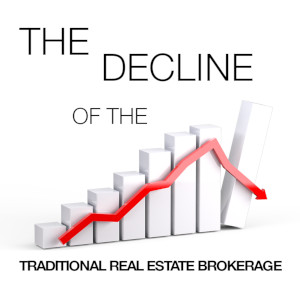 I have spent most of my career analyzing market disruption, disintermediation, network effects, and flywheel effects. I have studied several different markets as new entrants or technologies took on legacy business practices, and dramatically disrupted the traditional way of doing business.
A few examples of new companies disrupting entrenched legacy business models are:
E-Trade vs. Stockbrokerages
Expedia vs. Travel Agencies
Amazon vs. Retail Stores
UBER vs. Taxi's
Netflix vs. Blockbuster & Cable Television
AirBNB vs. The Hotel Industry
I have also observed this when new technologies took on legacy technologies. Examples include:
Mobile Phones vs. Land Line Telephones
Open Source Software vs. Closed Source Proprietary Software
Digital Advertising vs. Print Advertising
When possible, I try to take a position in markets that are undergoing some sort of major disruption, as it represents a tremendous financial opportunity if you play it correctly. It should be pointed out that this is rarely a ZERO SUM GAME. Yes, many legacy approaches will go away, but some end up re-inventing themselves so that they can succeed in the new competitive landscape. For example, I know of several really good travel agencies that are thriving by developing deep offerings in specialized market segments like fly fishing trips and adventure travel.
In my local real estate market(Bozeman, Montana) the large national franchised real estate brokerages have been losing market share for several years. (see chart). The lack of consolodation among these national real estate brokerges is an indicator of a market undergoing not only a market transformation, but potentially a major disruption.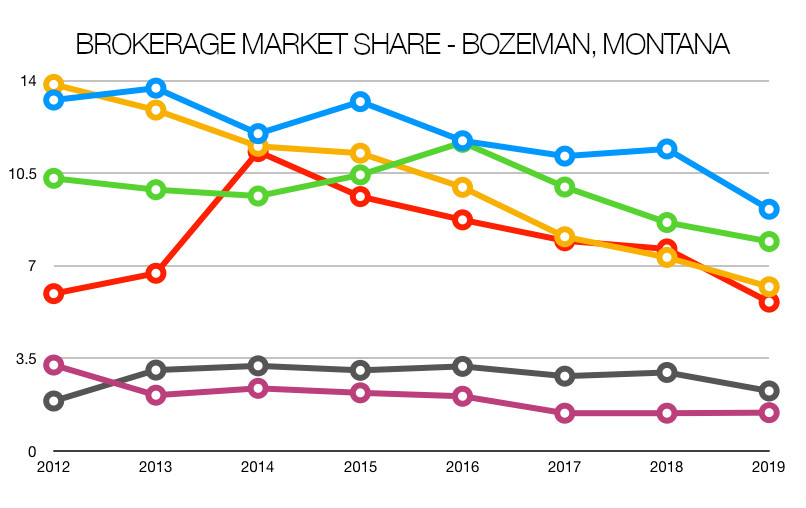 The large real estate brokerage franchises are not only losing market share in my local market, they are facing increasing pressure on operating margins as their leverage against real estate agents declines. Residential Real Estate Brokerages are a narrow margin business with lots of competitiion for top talent. As the number of options available to top producing agents increases, these agents are successfully negotiating more favourable commission split arrangements with the brokerage and establishing commission caps that place a limit on the amount of commission they pay the brokerage.
In order to retain top producing agents(the lifeblood of revenue for a real estate brokerage), real estate brokerages are having to offer better commission splits, nicer offices, and invest in expensive Internet technology and marketing solutions. This is negatively impacting margins and profits… and many top producing agents are still leaving to join boutique brokerages or go out on their own as true independant agents.
Real Estate Brokerages are very aware of the problem, and the competitive threats. Gary Keller(founder of Keller Williams) said in 2018 that Real Estate Brokerages have to dramatically re-define themselves in order to survive… and he said they have less than 5 years to figure it out. Keller Williams and Coldwell Banker are both making massive investments in developing new proprietary technology in an attempt to compete effectively in the new landscape of residential real estate.
There are many new brokerage concepts popping up around the country competing for top producing real estate agents. 100% models, profit sharing models, hybrid models that are a mixture of both. There are real estate brokerages like Compass that deploy capital(from lead investor SoftBank) as a competitive strategy to acquire market share and try to position themselves as a technology company. There are also the "iBuyers" like OpenDoor and Offerpad that are attempting to take away many of the "pain points" associated with selling a home. Many top performing agents are leaving traditional real estate brokerages and going out on their own, or joining co-operative type arrangements with other top performing real estate agents. According to NAR only 42% of REALTORS® are affiliated with a brokerage franchise in 2019.
Looking at the stock prices for a couple publicly traded real estate brokerage franchisors reveals how investors feel about their financial viability.
Realogy Holdings Corp. is an American publicly owned real estate and relocation services company. Realogy is the leading global franchisor of some of the most recognized brands in real estate including Sotheby's International Realty, Coldwell Banker, Corcoran, ERA Real Estate, Century 21, and Better Homes and Gardens Real Estate among others.
Realogy estimates that for all U.S. existing homesale transactions in which a broker was involved, Realogy had approximately 16% market share of transaction dollar volume and approximately 13.5% market share of transactions in 2017.
That is an impressive portfolio of real estate brands. However, investors have punished the stock. In 2013 Realogy(NYSE: RLGY) traded at a high of $53.53 per share valuing the company at over $6 Billion. In 2019 the stock was trading at $4.93 per share valuing the company at less than $600 Million… less than 1/10th its highest valuation.
Re/Max Holdings Inc is another American international real estate company that is publicly traded and operates through a franchise system. From 1999 until 2013 the company held the number one market share in the United States as measured by residential transaction sides.
Re/Max Holdings Inc (NYSE: RMAX) traded at a high of $67.20 per share in 2017 valuing the company at $1.19 Billion. In 2019 the stock traded for $25.67 valuing the company at $457 Million… less than 1/2 what it was at its high.
At the time of this article both of those stocks are trading up from the low prices they hit earlier in 2019. To be determined is if that is a "dead cat bounce." In finance, a dead cat bounce is a small, brief recovery in the price of a declining stock
Looking at the 2019 Residential Real Estate Franchise Report reveals the Franchise Fees for these well known real estate brokerage franchises range from $25K to $35K with ongoing Royalty Fees of between 5% and 6% of gross commissions, and Monthly Marketing/Advertising Fees of 1%. If these real estate brokerage franchises were delivering tremendous value, they would be able to command higher franchise fees, and their stocks would be trading at much higher valuations.
Technology is currently empowering real estate agents at the expense of the brokerage, but it is also predicted to reduce the importance of both real estate agents and brokerages over time. According to researchers at Oxford University, the potential for artificial intelligence computer algorithms to replace real estate brokers is estimated at 97%. The future of the real estate brokerage is under immense pressure, and is changing fast!
Why Are Traditional Real Estate Brokerages In Decline?
Over the last 15+ years almost everything about residential real estate has gone online. This has changed the consumer buying and selling behavior. Previously a real estate brokerage controlled access to information about properties for sale. Consumers used to think the real estate brokerage with the most signs around town or the most advertisements in the local newspaper was the best option.
The brand of the real estate brokerage an agent was associated with used to matter to the consumer. As a result, the value the brokerage brought to the agent was significant.
Today, consumers do not make decisions based on the brand of the real estate brokerage, they choose the real estate agent they think will do the best job for them. The brand of the real estate brokerage increasingly has little to do with the transaction other than cash the check and keep a percentage of the commission. It is the interaction with the real estate agent and the agent's expertise that creates consumer satisfaction, not the brand of the real estate brokerage.
The National Association Of REALTORS reported in 2016 that only 2% of consumers chose their agent based on the brokerage brand they are affiliated with.
In an effort to retain top producing agents, many brokerages are still trying to convince agents that the brand of the brokerage is important, and that their brand has significant value with consumers.

The reality is that consumers do not care about the brokerage brand an agent is associated with.
The brokerage used to be the consumer's first stop. Now the consumer's first step is to go online, and find an agent they want to work with.
Today, information on homes for sale can easily be accessed by looking at websites like Zillow, Trulia, Redfin, Realtor.com, and hundreds of other property search related websites. Consumers no longer consider a brokerage a significant component in the value chain associated with buying or selling a property.
When it comes to data, the largest and most valuable data or information in the real estate industry is basically off limits to brokerage firms. The most valuable data is client and customer data, and that is owned by the agents and is typically closely guarded by them. Brokerages have access to data about listings, sales, revenues and costs. That information is valuable, but the customer data owned by the agents is much more valuable.
I have spent the last 5 years looking at technology solutions for real estate agents. The best solutions tend to be marketed at individual agents, or teams of agents, not real estate brokerages. When agents purchase these marketing tools and take over their own technology stack, the grip that the brokerage has on the agent gets even weaker.
As a result real estate brokerages are not only increasingly losing their influence over consumers, they are also increasingly losing their leverage with real estate agents… especially top performing real estate agents.
What Does The Real Estate Brokerage Of The Future Look Like?
I try not to make public predictions… preferring to make private investments and get positioned to benefit financially for how I predict markets will evolve.
However, you can look at the way markets have behaved in the past to predict the future. One of the Immutable Laws Of Markets is that over the long term they seek efficiency. This usually leads to disintermediation(the removal of unnecessary intermediaries in the business process). Many of the top performing real estate agents in my local market are extremely successful without being associated with a traditional real estate brokerage. They have "disintermediated" the traditional brokerage… removing an extra layer in the transaction process.
Are national real estate brokerage franchises necessary in the real estate transaction process or are they a layer of overhead and expense that can be removed? 42% of agents already feel they are not worth the additional cost.
In 2014 my wife and I identified real estate as a market we felt would be disrupted by technology, and we started putting a strategy in place to capitalise on it. We visited with friends to understand their frustration with the existing real estate process, and we started developing a technology stack and a market strategy so that we could quickly grab market share as the industry transformed. We both became real agents, and then real estate brokers so that we could run our own brokerage if we choose to. In Q4 of 2019 we started our own brokerage so that we could be more agile and rapidly respond to the changes in the market we were seeing, and so that we could take complete control over the transaction process, and take over complete control of our market strategy and our marketing budget.
We feel we have created a more financially efficient and more market effective real estate company that delivers substantial value to our clients.
I can't say with any degree of certainty how this will all play out, but looking at the market share data for real estate brokerages in my area of the world, it is clear that change is already occurring.
Having studied market disruption for over 25 years, I have noticed one thing all of the disruption cycles have had in common. First the disruption happens slowly, then it happens quickly as Network Effects and Flywheel Effects kick in.
Traditional Real Estate Brokerages are under extreme pressure. They are suffering from declining margins, losing top producing agents, and in my local area they are losing market share.
If real estate brokerages do not redefine themselves, start providing massive value to home buyers and sellers, and figure out how to bring substantial value to real estate agents they are at risk of having the same outcome as stock brokerages and travel agencies.